A high quality service you can trust at a price you can afford
We know what we are talking about 
Whether you need a consecutive interpreter for a medical consultation, business meeting or phone call, or a simultaneous interpreter for large meetings or conferences, Ulster Language Services will have the expertise to meet all your requirements.
ULS could, on request, provide portable interpreting equipment for meetings or factory visits, as well as full conference interpreting facilities such as booths, delegate headsets and roving microphones.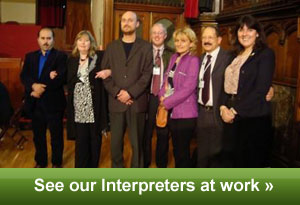 A one-stop-shop for all your interpreting requirements
Simultaneous

Consecutive

Video conferencing

Telephone

Audio translation

Voice overs
Leave it to us – our experienced team of interpreters will help you communicate
and ensure that your meeting or event will run smoothly.
Just say it and we'll do the rest !